Is FutureNet a scam? Lately, a lot of investors have been asking themselves this particular question. As there is a lot of hype around this company, there is also a lot of information that needs to be processed. In some cases, this can be confusing. Well, you don't have to worry about this anymore as you have come to the right place.
In this article, we will explore FutureNet to the smallest detail. Starting from its background, going through its products, and finishing with other information that is related to this company.
More importantly, you are going to learn whether FutureNet is a legit MLM company that offers an excellent business opportunity or just another Ponzi Scheme that you should avoid. Moreover, this essential information will help you make a proper decision. So, let's not waste time and begin reviewing this MLM company.
What is FutureNet?
FutureNet is a multi-level- marketing company launched in 2014. The two founders and CEOs of this company are Stephan Morgenstern and Roman Ziemian. The company is headquartered in Wroclaw, Poland. As one of the founders was born and raised in Poland, the location of the FutureNet Office makes sense.
Unfortunately, the company is not transparent. They do not share much information, which made us wonder why. Are they hiding something? We were able to find out that Stephan and Roman are friends long before this project. Initially, it took them two years of planning and developing before they were ready to launch this new network marketing venture.
Is FutureNet a Scam?
In 2017, FutureNet announced the release of the "most innovative cryptocurrency" FuturoCoin, which was tied to FutureAdPro. As many investors already know, this coin was nothing more than a Ponzi Scheme, just like FutureAdPro.
However, if you are among those who have no clue what has happened with FuturoCoin or FutureAdPro, then keep on reading. In the following paragraphs, we will explain to you what happened.
The FuturoCoin was publicly listed in June 2017. Since its release, this cryptocurrency followed the typical MLM pump and dump trajectory. In other words, the value jumped to $18.86. Meanwhile, the owners and top affiliates of FutureNet tried to cash out as much money as they could.
Unsurprisingly, the value of FuturoCoin began decreasing. It dumped to $11, and then in September 2018, FutureAdPro collapsed. Many people were promised that FutureNet would pay each user in the mentioned cryptocurrency – FuturoCoin.
Moreover, if you are curious, the current value of FuturoCoin is $0.327005. In other words, the scam cryptocurrency left many people with little to no money. However, FutureNet has no real value because it was created as a Ponzi exit-scam.
But let leave these facts aside. Is FutureNet a legit company? Or is it a Ponzi scheme just like FutureAdPro and FuturoCoin? Unfortunately, this multi-level marketing company is probably a pyramid scheme that is still trying to keep up the lie alive.
If you still have any doubts, FutureNet is currently under criminal investigation in Poland. Poland's Office of Competition and Consumer Protection has issued a pyramid scheme warning for FutureNet as well as all associated companies.
Also, a consumer protection warning was issued in Austria earlier this year. So, do you think you should trust this company? Well, let's see what this company has to offer to its members.
Products
Future-Landing-Page-System
Future-Video-Mail
Future-Blog
Future-Cloud
Website templates
Momentum System
FutureNet Games
Becoming an Affiliate and Package Types
Currently, there is no cost for signing up. However, after becoming a Basic member, you have to spend at least $35 if you want to withdraw money. Also, as there are different packages you can choose from, the minimum amount you have to spend also varies. Let's see what they are:
Member package – $10
Basic package – $35
Gold package – $85
Exclusive package – $185
Sapphire package – $685
Royal package – $1,685
Marketing Plan and Bonuses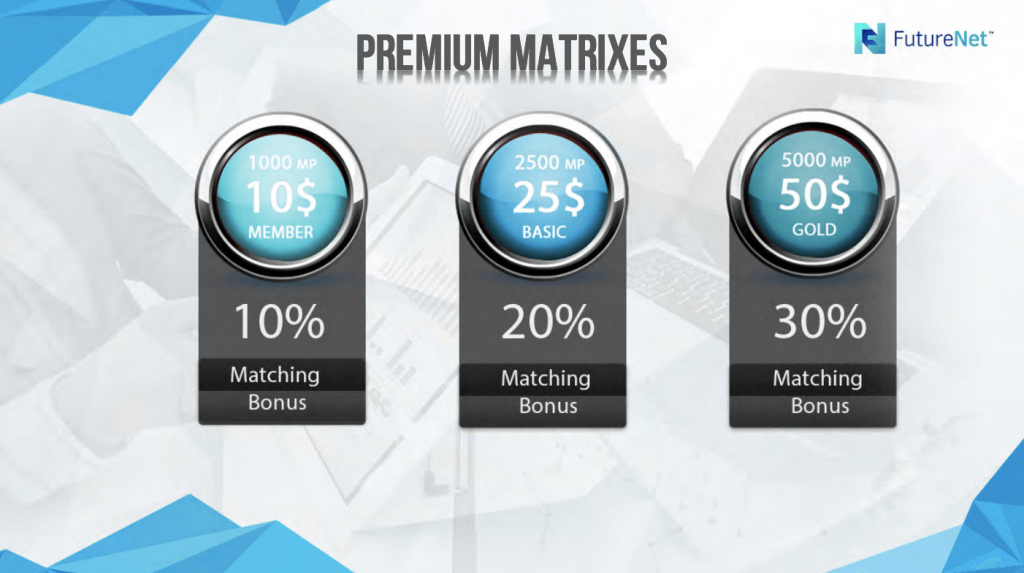 Login Bonus
Once you finish your registration, every minute counts after the first login. With FutureNet, the following activity minutes are equal to a special bonus. The higher the time activity, the higher the bonus.
Login + 05 Minutes = 1 Cent
Login + 15 Minutes = 3 Cent
Login + 30 Minutes = 5 Cent
Typically, after fishing the registration, every investor spends time within the platform. FutureNet has thought of a smart way to persuade investors to pay an even longer time.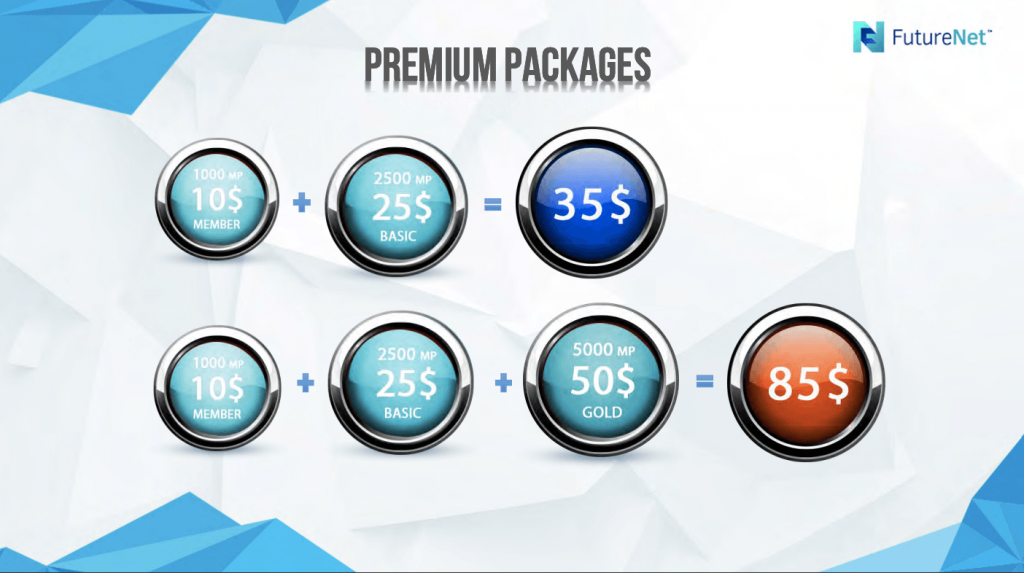 Social Media Bonus
FutureNet pays for the activity of each user on the social media platform. The higher the activity, the higher the reward. Moreover, this type of bonus is calculated daily according to a particular script, taking into account specific parameters of activity.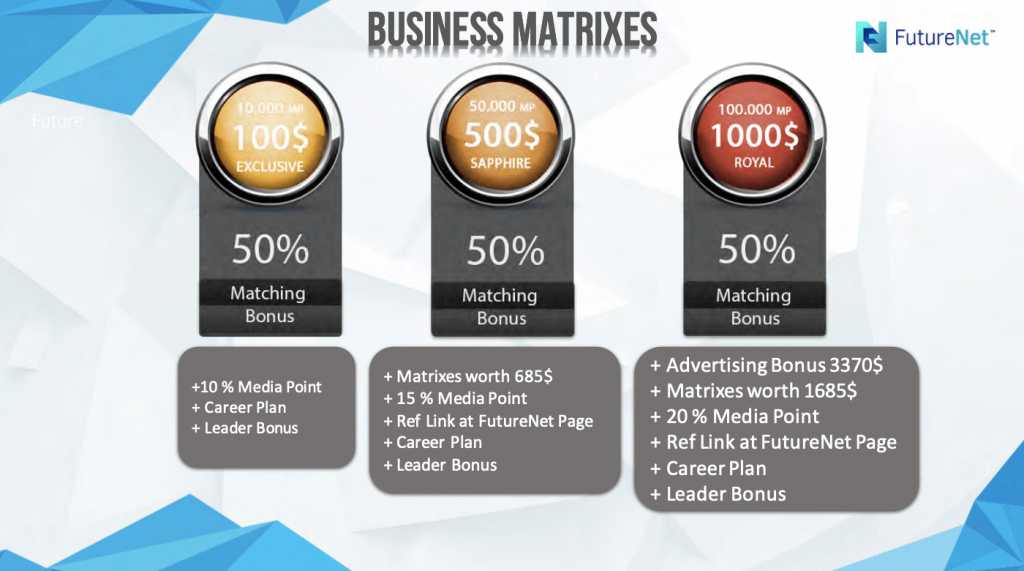 Multimedia Bonus
With FutureNet, users have the opportunity to upload their own multimedia files and resell these files to other FutureNet users. After specifying the price for each file, the user can make money every time other people download the file.
Moreover, for every sale you make, you will keep 50% of the price. Further, 40% of the price will go to the Marketing Plan in the form of turnover. Also, FutureNets' commission is 10%.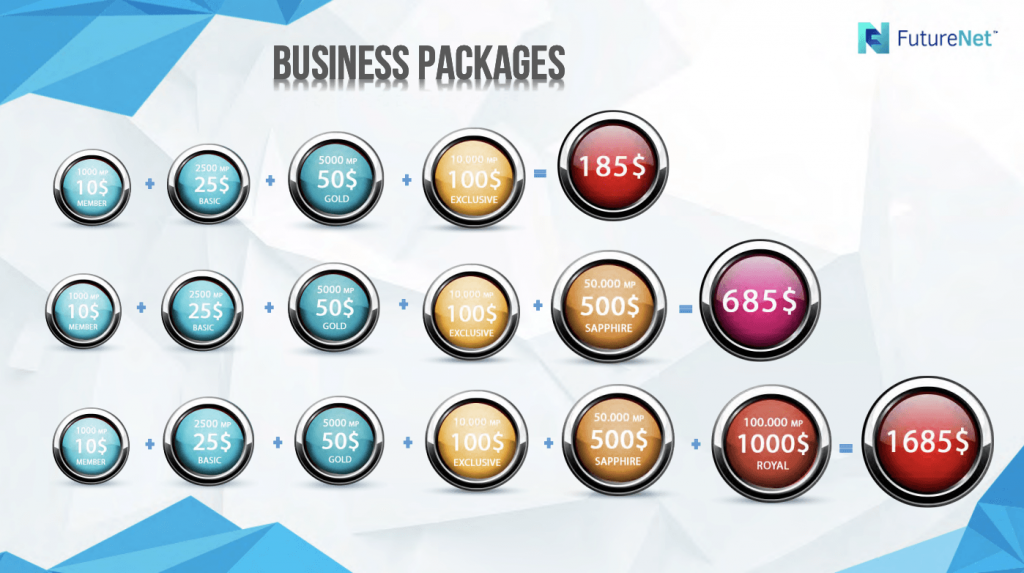 Sales Bonus
The more FutureNet product you sell, the higher the sales bonus. This MLM company offers 30% of direct commission for each sale of the FutureNet products. Moreover, you are rewarded for each sale in your team up to 10 levels inside. Take a look at the example below.
1st Level – 5%
2nd Level – 5%
3rd Level – 5%
4th Level – 5%
5th Level – 5%
6th Level – 3%
7th Level – 3%
8th Level – 3%
9th Level – 3%
10th Level – 3%
Also, the FutureNet products are as follows: Future-Landing-Page-System, Future-Video-Mail, Future-Blog, Future-Cloud, Website Templates, Momentum System, FutureNet Games.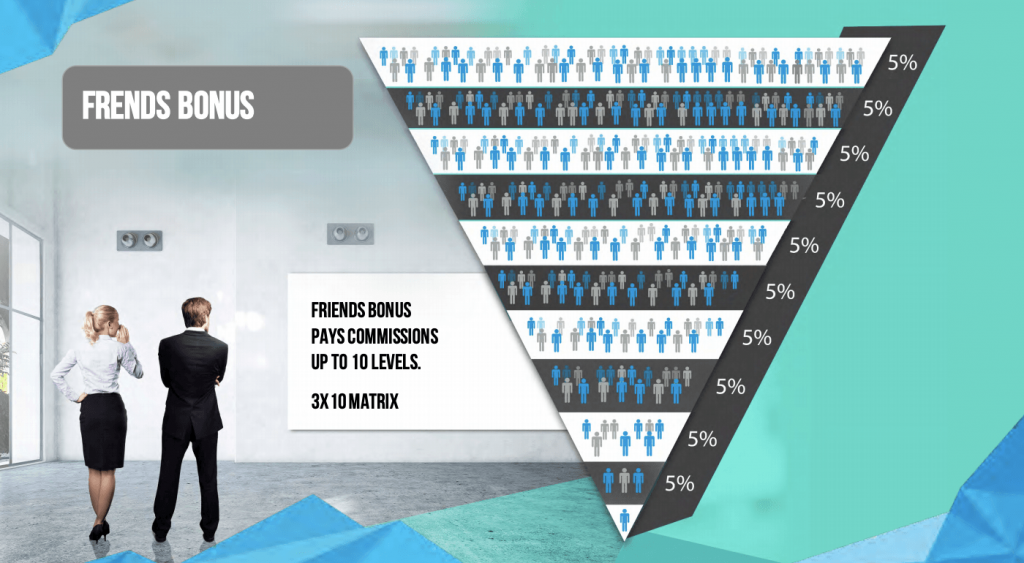 Friends Bonus
With FutureNet, the Partner in each Friends Tree can have three friends at the first level above. Each next friend will be placed at higher levels of the Friends Tree. Furthermore, let's take a look at the Friends Tree example in Exclusive package $185.
1st Level – 3 Partners – 5% = $27.75 Commission
2nd Level – 9 Partners – 5% = $83.25 Commission
3rd Level – 27 Partners – 5% = $249.75 Commission
4th Level – 81 Partners – 5% = $749.25 Commission
5th Level – 243 Partners – 5% = $2.247,75 Commission
6th Level – 729 Partners – 5% = $6.743,25 Commission
7th Level – 2.187 Partners – 5% = $20.229,75 Commission
8th Level – 6.561 Partners – 5% = $60.689,75 Commission
9th Level – 19.683 Partners – 5% = $182.067,75 Commission
10th Level – 59.049 Partners – 5% = $546.203,25 Commission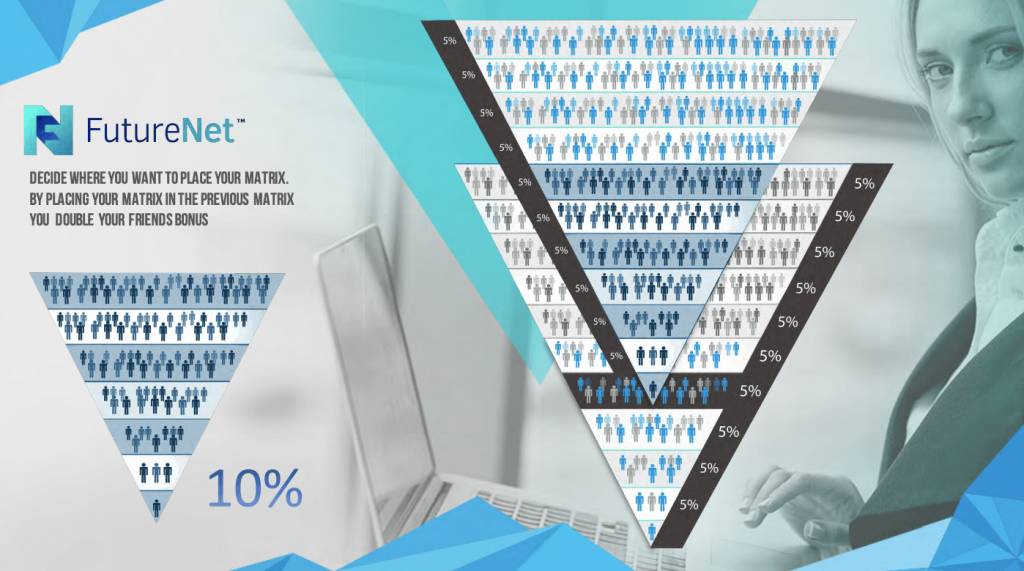 New Position Bonus
By reaching a new position, each Partner gets additional positions bonus. However, to qualify for this type of bonus, the first level in Friends Tree must be filled. Also, the matrix can be placed at least on the third level. Here's an example:
1. New Position: When you reach 40 Partners in Friends Tree
2. New Position: When you reach 80Partners in Friends Tree

Moreover, by placing one matrix in another, you can multiply your income in Friends Tree.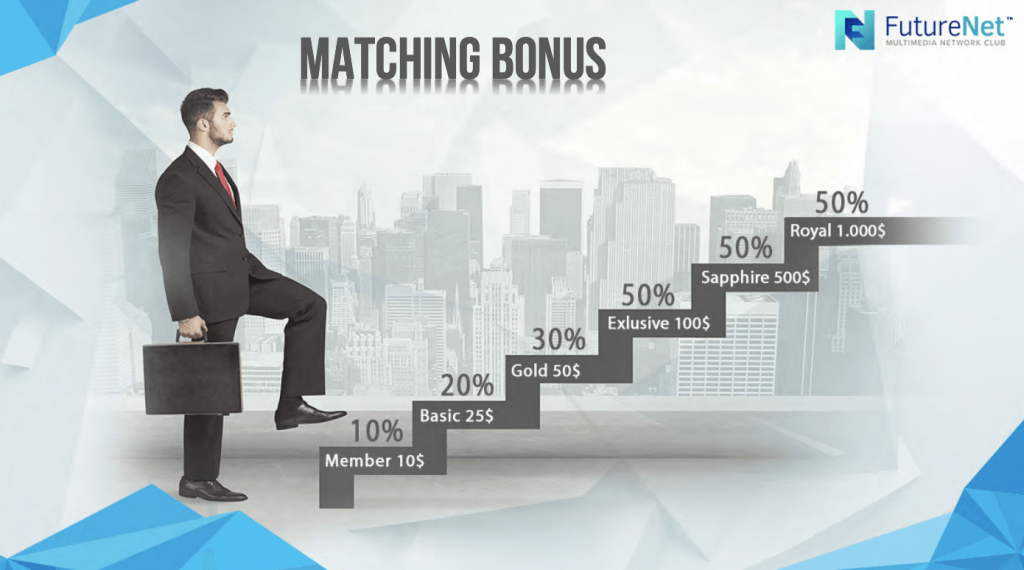 Matching Bonus
With FutureNet, there is a Matching Bonus. Moreover, this bonus is calculated on the basis of the income from the Friends Three Bonus. In other words, the more Partners you invite, who get the bonus in Friends Tree, the higher the Matching Bonus. Further, you can get from 10% to 50% of each of the Partners' income values. Also, the Matching Bonus depends on the owned package – for example:
1 Personal Partner = up to 50 % Matching Bonus
3 Personal Partners up to 50% Matching Bonus from each one

Advertising Bonus
This is another type of bonus this company offers. However, the Advertising Bonus is for users with a Royal position, which means that from the moment, when you achieve or purchase the Exclusive position, you have 14 days to upgrade. By doing so, you will get the Advertising Bonus.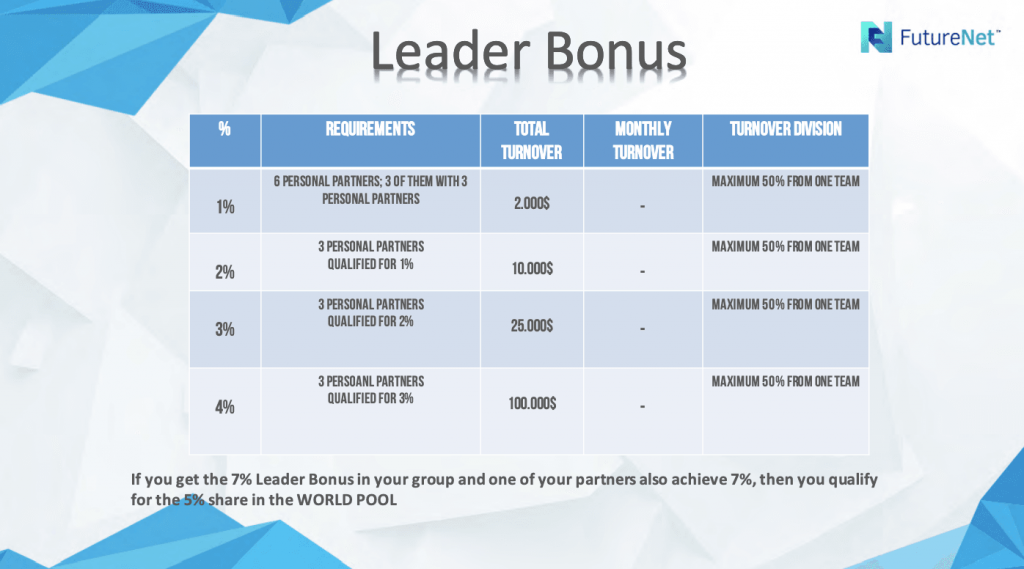 Leader Bonus
With the Leader Bonus, you get % income from all your structure without any depth limits. Moreover, this % depends on your qualifications. Further, if your Partner qualifies to the specified level of the Leader Bonus, then you will earn the % difference. Here's an example: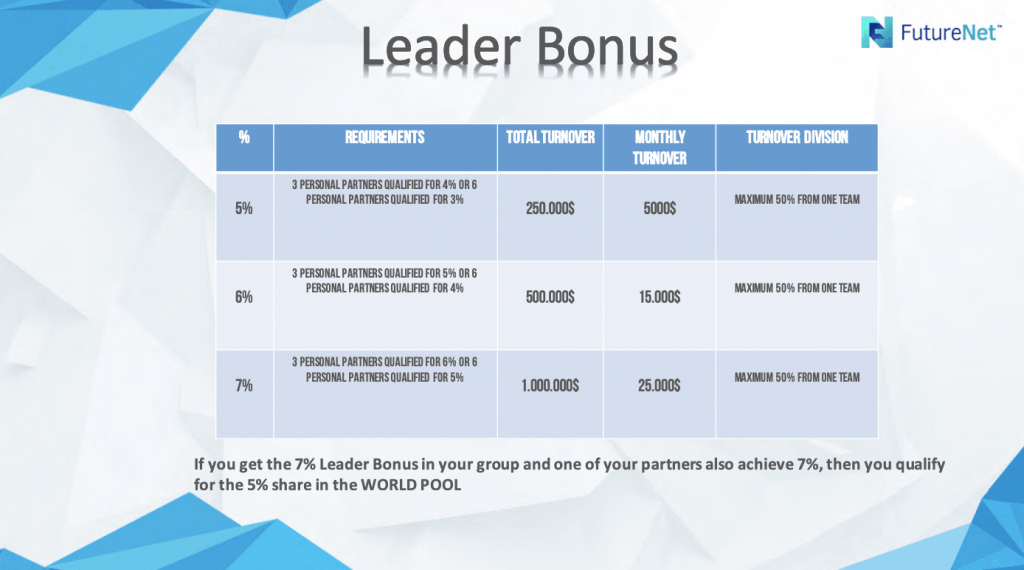 Say you are eligible for a 5% Leader Bonus. On the other hand, your Partner qualifies for 3% Leader Bonus. This means that you can earn 2% without any limits in level depth. However, if you and your partners achieve 7% Leader Bonus, then you will qualify for the 5% share in the World Pool.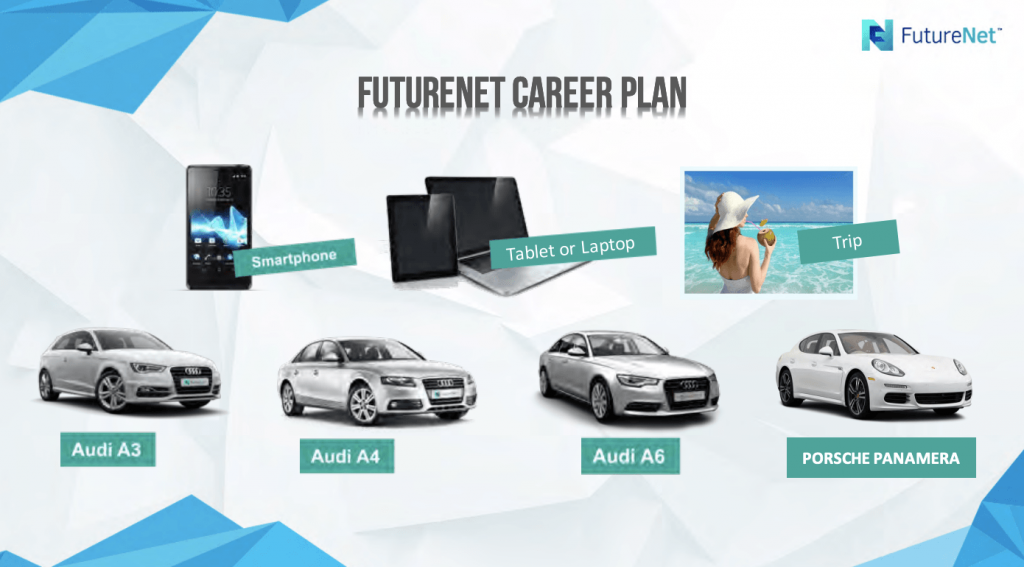 Career Plan Prizes
With FutureNet, the scoring system is simple. All the scores from your structure are counted into your Career Plan. However, to be more precise, take a look at the example.
1 Point = Turnover from all packages and upgrades $1
2 Points = Turnover from product sales $1
0.5 Points = Turnover made as a result of Power Matrix sales $1
Smartphone
20.000 Points
5 Personal Business Partners
Tablet/Laptop
50 000 Points
7 Personal Business Partners
3 Partners qualified for Smartphone Prize
Trip
150.000 Points
10 Personal Partners Business
3 Business Partners qualified for laptop or tablet prizes

Audi A3
1.200.000 Points
1.000 Business Partners
15 Personal Partners Business
3 Partners qualified for Trip Prize
Audi A4
1.500.000 Points
2.000 Business Partners
20 Personal Partners Business
3 Partners qualified for Trip Prize
Audi A6
1.800.000 Points
3.000 BusinessPartners
30 Personal Partners Business
3 Partners qualified for Trip

Porsche Panamera
3.500.000 points
5.000 Business Partners
30 Personal Partners Business
3 Partners qualified for the Car Program


Withdrawal Methods
FutureNet offers the possibility to withdraw money cash if you are at Basic Position. Otherwise, the minimum amounts for withdrawals are $20 for Bitcoin or $50 for all other withdrawal methods.
Moreover, with FutureNet, each partner must use registration codes. On the other side, these codes can be sold to another. Also, "A fee for each ordered withdrawal is collected form the user in the amount depending on the selected manner of payment. The fee is collected for each ordered disposal."
Furthermore, the maximum withdrawal value is $10,000. Meanwhile, if you want to use a bank transfer, then the maximum amount of the available withdrawal is a total of $15,000.
Bottom Line
Typically, MLM Ponzi schemes collapse in two or three years. Moreover, FutureAdPro and FuturoCoin are no exceptions. FutureAdPro used to promise affiliates an unrealistic $60 ROI on $50 deposits. On the other hand, a year after building up this ROI scam, they launched the FuturoCoin, which ended up being a typical MLM pump and dump scheme. The company behind these two projects is FutureNet.
Is it possible that FutureNet had no clue about the real intentions of FutureAdPro and FuturoCoin? Well, they probably knew about these Ponzi Schemes. More likely, FutureNet itself is a pyramid that will soon collapse. After all, FutureAdPro and FuturoCoin had the same end, so FutureNet isn't going to be any different.
Furthermore, FutureNet will probably continue to generate Ponzi liabilities that cannot be met. Hopefully, all investors who are considering this as an "opportunity" will be able to realize that this is another MLM pyramid scheme.