Many are the scam companies that have fallen into this dirty game when it comes to working with cryptocurrencies. We even know of cases in which they have been reported and are still operating. The issue of working with money is very sensitive for all parties; this will be a matter of contention.
It is not possible to advance in a particular project without having the pertinent financial soundness, that is why many look for alternatives. These necessity alternatives, in many cases, are not usually the most common. What would it be like to get an additional job or some extra activity that generates income?
In many cases, the way to earn money is through shortcuts, many of these fraudulent in every way. And unsurprisingly, startups take this as an opportunity to catch new investors.
In the case of the cryptocurrency market, the same thing happens and exists a lot of misinformation on the subject. Disinformation arises almost as quickly as the method grows, and so many shell companies seize the opportunity to break in illegally.
This is where the Bit Club Network, a U.S. Bitcoin mining group sued for scams of more than $ 700 million, comes in. This company reportedly has been taking advantage of its victims since April 2014, policies arrest those involved, and one remains a fugitive.
But we go by parts, first of all, we must know how the process works and what it is about. So here we will explain it part by part.
What are cryptocurrencies, and why have they become so famous?
First of all, a cryptocurrency is a digital currency as an alternative medium of exchange. Being digital, it does not have the backing of a bank so that you can handle it online.
The crypto controls the Bit Club Network; it is constantly moving since its competition and market is currently very wide. A total of 36 million cryptocurrencies were registered for 2019 worldwide.
This is the digital money of the future, and its most popular currency, Bitcoin, has rapidly climbed in position. For this method to work, we must use it wisely and know who we invest with. Being a digital method, there are very few supports that it offers when it comes to fraud.
Every company related to Bitcoin mining works in the following way, or rather they cheat like this, with these key points:
Knowing that the subject has many holes in its operation and information, they offer "learning programs." Many serve as guides to guide you through this process without knowing where it will end.
They place the new client to invest a certain amount of money that he recovers later.
They offer packages of bonuses or sales commissions according to the position in which the client is.
Many use their mining group to convince the client that they will earn more money by attracting other interested parties
All this before mentioned was the way to carry out the Bit Club Network scam according to reports issued by United States prosecutors.
Cryptocurrency Business: Scam Opportunity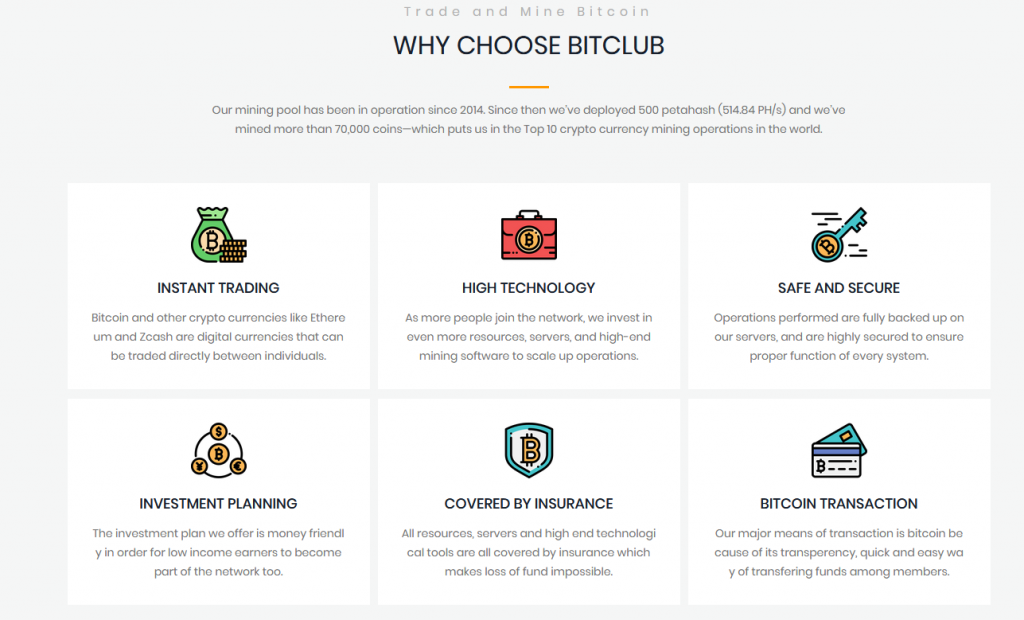 So far, it has been made clear that cryptocurrencies are a method not endorsed by any government department. Unlike banks and their protocols, this does not happen with Bitcoin, one of the most famous cryptocurrencies today.
So when investing, it should be clear that online fraud is an option. No one can guarantee that you will earn money this way, so you must be careful when carrying out these operations.
Bit Club Network
What is it, and how it works?
Bit Club Network is presented as a group of Bitcoin mining services. We have already explained that this is the most famous type of currency in the cryptocurrency market. So many prefer to work with them, and investors prefer them too.
This does not escape the thousands of scam cases carried out with this digital currency. The plan carried out by the Bit Club Network team reportedly worked as follows:
– People had to invest money
– People will use this invested money to pay for hardware and operating systems
– The final reward would be the profit obtained from the sales of the cryptocurrencies extracted from here
The plan began according to U.S. police reports around early 2014, and they dismantled it earlier this year.
Under this plan, Matthew Brent Goettsche, 37, Jobadiah Sinclair Weeks, 38, and Joseph Frank Abel, 49, were charged with wire fraud and conspiracy. This accusation happened for offering and selling unregistered securities.
These three individuals, plus one who is still at large, were found to have received money from investors. All this in exchange for alleged participation in a Bitcoin mining group. Investors would later be rewarded with the proceeds from the sale of cryptocurrencies.
Additionally, investors had the responsibility of capturing other users, and this would be part of their profits as well.
How does the recruitment of "Potential Investors" work on the Bit Club Network?
According to statements by the defendants, their search focused on investors eager to earn easy money, which they branded as "stupid investors."
Goettsche allegedly placed others to manipulate a certain amount of mining profits. Everything seemed real from the outside; all the documents, records, even the team made trips and made videos so that everything seemed real.
With this, they managed to attract more people to the company.
Scam legal implications
Bit Club Network faces a sentence of more than 20 years in prison for this electronic fraud. Also, a fine of up to $ 250,000, for cases of electronic fraud added to the sale of unregistered securities. That is, they would be up to 25 years in prison and $ 500,000 in fines.
Recently, the company requests to be released, using the COVID 19 pandemic as an excuse. But the requested temporary release was denied, despite the reasons stated by the accused.
Specifically, they state that being there, they risk contracting the disease, and the measures of general isolation deprive them of having a lawyer.
Also, those involved, for the time they had conducting the business, managed to obtain accounts all over the world with large sums of money. This process of blocking funds is still going on. This means that approving the "temporary release" increases the possibility of flight to another country where the funds cannot be confiscated.
The power of the internet allowed the Bit Club Network case to become very famous. For a long time, negative publications circulated about this company and its way of operating. Many were the attacks on the portal, due to the lack of information about the company.