Talking about a company that incurs scams is a way to guide users to be very careful. Coinfinesse Group is a company with a long history of collapse, which leaves many doubts about its promises to participate.
The footprints of this Company go to its first name, where it called itself Coinfinity, rapidly collapsing. Something very interesting is that the site whose name was Coinfinnity is currently with a joint link.
Strangely, a new site is reopened. To understand a little more about this matter, you need to know the entire history of Coinfinesse Group from the beginning.
History of its creation and the Supposed Creator of the Company
Coinfinesse Group was registered just on December 19, 2019, selling its users a world full of opportunities. From this perspective, it is strange that this unexpected launch was shortly after the launch of Confinity.
This seems to be the typical Company that tries to wrap a secret by making a very unexpected domain jump. On the other hand, Mario Helmut is the character that represents the MLM company, showing himself as a businessman.
The life history of this character makes him look like a digital marketing hero having 40 years of experience. According to his biography, he is an expert in the financial field.
The fact of all this is that on the internet, a person can give himself attributes and credits that do not correspond to him. LinkedIn is the way to cover professional profiles looking like a business person because there are also inconsistencies there.
Mario Helmut has 25 years of experience in a company called Zurcher Kantonalbank, which is currently unverifiable.
If it is spoken exactly, the internet is a game where the one with the greatest ability crushes others. It is unreliable that outside the Coinfinesse Group website itself, you cannot verify Helmut's information.
Another fact is that social networks are not credit accounts these days to trust them. The social network Facebook is one of the most used in the world, and practically everyone has one.
It's a bit strange that Mario Helmut being such a successful person, doesn't have a profile created before 2019. Another aspect that is even more worrying is the fact that the accounts that appear were created in December.
Consequently, the Helmut character is probably fable.
Arguments for which Coinfinesse Group Emigrated from Confinity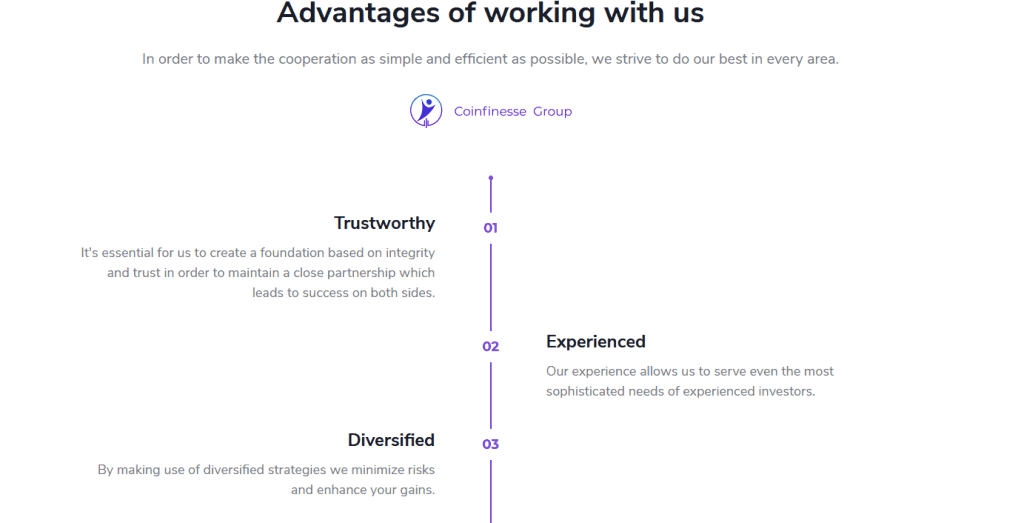 Historically on the internet, it is difficult to find out the reasons why companies leave a web domain and start a new one. If Confinity, the reasons for its closure without explanation are not due to bankruptcies.
This Company was doing very well in its beginnings and suddenly decided to close its online activities. The reason why Confinity closed its doors was due to a threat from another company's lawsuit.
In this case, it was due to a company based in Australia who intended to file a lawsuit. This demand was supported by the fact of infringing on a brand that was previously registered.
In short, this is the reason why Confinity became Coinfinesse Group from one moment to the next.
Coinfinesse business plan
This Company presents a business plan that seems to be good in the eyes of those who do not investigate very well. To start this Company offers the opportunity to buy a membership and through it earn money by marketing other memberships. The business plan is structured as follows:
Those who buy affiliate membership can invest in Cryptocurrencies.
Depending on the investment, they may have a rate of return of an amount equivalent to 3.6%.
How the Company distributes the Percentages?
It all depends on the percentages according to the type of business chosen, and the alleged earnings are:
The investment starts from $ 100 to $ 2499, of course, invested in solid cryptocurrencies such as Bitcoin or Ethereum. The promise of return is deb 2.4% weekly.
From 2,500 dollars invested equally in any of the two Cryptocurrency platforms, the Company offers a 3.6% weekly return.
This sounds somewhat promising to be somewhat promising, especially since there is no amount stipulated for a period.
Ranks of Established Affiliates.
These assumed ranges of this Company have ten ranges that are distributed by stars and remain as follows:
Get a Star: The team has earned $ 1,000 per weekly rate of return.
You get two Stars: When the team of your referrals has obtained together 5000 dollars in weekly returns.
Three Stars: When you generate 20,000 dollars of weekly returns.
Get 4 Stars: This is for $ 50,000 that your affiliate team has achieved in weekly returns.
To obtain 5 Stars: When they have generated 80,000 with their team of affiliates in the weekly returns.
With six stars: When you and your team generate $ 150,000 in a descending way.
Seven Stars: When you and your team generate $ 250,000 in stars together
Eight Stars: When you and your team generate $ 500,000 in descending equipment.
Nine Stars: When When you and your team generate million dollars in weekly returns equipment.
Ten Stars: When you and your team generate $ 3,000,000 in weekly returns.
All this is calculated according to the Company as teams in descending order.
Commissions gave by the reference company.
This works with a multilevel system and consists of the fact that as a person invites others, they achieve a level. In a nutshell, the Company promises the famous residual income. They distribute it in the following levels:
1 Level: Receive 100%
2 Level: Receive 50%
3 Level: Receive 10%
4 to 8 Levels: Receive 5% (paid from 3 stars and above)
9 to 12 Levels: 3% (paid at five stars and above)
This sounds compromising, but everything indicates that it is a scam.
Pay per Star Rank
1 Stars: Receive $ 200.
2 Stars: Receive $ 1,000.
3 Stars: Receive $ 4,000.
4 Stars: Receive 10,000 Dollars.
5 Stars: Receive $ 15,000
6 Stars: Receive $ 30,000
7 Stars: Receive $ 50,000
8 Stars: Receive $ 100,000
9 Stars: Receive $ 150,000
10 Stars: Receive 450,000 Dollars
Final Collection of Data
At this point, everything sounds very beautiful to be true, and the Company does all this to flee with other people's money. No law allows you to claim your money. This Company has recently limited withdrawals from its platform, attributing this to the collapse of Bitcoin.
The Company blames COVID-19 for the recent drop in weekly return rates, which is unusual. This makes it clear that investing in this Company is a great scam and that you will end up bankrupt.
There is no doubt that the elegant Mario Helmut is a completely false person who sells illusions to the naive. There is no option to leave this Company in a good position. So be very careful with the money you expose there.