More and more virtual companies are emerging as a dream, making promises that may never be fulfilled. In this case, Tycoon 69 is involved in controversies due to the unsupported plans, so you must be very careful.
As a first point, you should be careful about joining a company whose purpose is to make your money disappear like magic.
The idea is that by reading these lines, you can understand and know the scams that companies plan. Therefore, it is good that you first know where the company comes from according to the supposed data that they manage.
Likewise, you should know in detail the business plans they offer and the final recommendations that will make you avoid losses.
History of the company, according to its arguments
From a visual point of view, conclusive data cannot be collected from the owners of the digital company, since they do not exist. Upon entering the company, you can verify that it does not have any support that speaks about its general owners.
On the other hand, since there is no company data, it is difficult to verify the company's marketing history. If you look closely at the advertising of this company, some videos show the business plan. In these plans, you see a person who talks about the benefits you will get in the long term.
Likewise, this person does not present himself with a name in general; but many sources speak of Stefen Hostettler. In this case, you cannot verify that the character is the owner of the company just because he makes a video.
In another aspect, everything related to the context of the company shows that the company comes from Switzerland. Of course, this is just another allegation, as the researchers are guided only by the direction of the page.
To give value to other historical points, the business plan of this company shows that it is on MLM. A clear point of the company scam is that in marketing, there does not have to be retail products.
But for you to understand these manifests, you must know how the business plan works as unfounded in the information.
General income plan of the company
It all starts with a free affiliation, But you only generate income by investing to start rating it. The amount you start with is 50 Euros, and with it, you get the first amount of points.
This company offers a return on the investment plan, which progresses as you scale one position forward. It is very nice to think that without making more effort, you would start to make a profit starting with a low investment amount.
Specifically, everything works with levels; we are going to explain all this in a specific way as a reference.
The Reference Commissions gave by Tycoon69 Diluted in Levels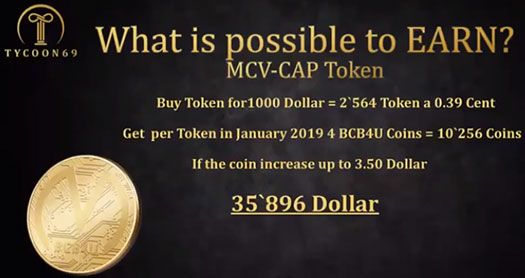 Residual income is a business system that has been around for many years as a source of quick money. However, these same income levels are being used in Digital Marketing to cheat and scam people.
Residual income is a business system that has been around for many years as a source of quick money. However, these same income levels are being used in Digital Marketing to cheat and scam people.
It sounds historical that a rate of return returns to you for your income and for the income of the group you form. Now, in the case of Tycoo69, the promised referral commissions are divided into ten ranges or levels as payments.
As people increase their number of referred people, they start to earn money for them by scale. The levels are:
LEVELS
Basic Range: You can invest 50 Euros and receiving an amount of 104 MCV points.
Bronze Rank: You can generate an investment of 250 Euros, and 336 MCV points are received
Silver Rank: You can generate an investment of 500 Euros to receive 632 MCV points
Gold Rank: In this case, the investment is 1000 Euros to receive a total of 1207 MCV points
Platinum Rank: You can generate 2948 Euros, and the same amount of points is received.
Diamond Rank: In the diamond rank, the investment is 5000 Euros receiving 5907 MCV points as a bonus.
Professional Rank: You can generate an investment of 10.0000 Euros, receiving a bonus of 12073 MCV points.
Founder Rank: At this point, the investment must be 25,000 Euros, and a bonus of 30,132 MCV Points is received
Investor Rank I: The investment increases to 50,000 Euros and the points you will obtain will be 64,191 MCV points
Investor II Rank: You can invest 100,000 Euros and obtain a score of 128,382 MCV points.
This, of course, is seen as a team business model that grows as the team grows. This company does not sell a single product; it is only responsible for distributing a library of books with each membership.
When you buy a membership, you also receive a supposed training that leads you to be a seller.
Observations of the true Scam Strategy after the Level Breakdown
Beyond this, brainwashing hides a plan that is not at all satisfactory as investors. You put yourself at risk, and you will give a bad time to all investors who come below the chain. You should know that until now, the MCV points offered by the page are not sold outside of it.
The plan of rank or levels of ancestry within the company offers other levels of earnings. This generally depends on the volume of the people you join and the amounts of money.
Rate of Return Levels According to Tycoon69 and its False Promises
The company measures these levels by the volume of investments made by selling memberships to others. The bad thing about this plan is that many people innocently market it through their social networks.
This puts both the original investor and those behind it at risk as a residual chain. The levels are like this:
Coin team Builder level
With a monthly group volume of 1000 Euros. (10% return)
Coin Manager Level
With an increasing group volume of 2,500 Euros per month. (10% of level 1 plus 1% of 2)
Coin Coordinator Level
When the group it manages achieves an investment of 5000 euros per month.
Coin Expert Level
When 10,000 euros are generated monthly in descending groups plus an additional requirement from two currency managers that you recruit yourself.
Coin supervisor level
With 25,000 Euros per month of the group and two currency coordinators recruited by you.
Currency Officer Level
50,000 Euros in the group and two currency experts.
Coin director level
With 100,000 Euros per month and two currency supervisors.
Coin Executive Level
250,000 Euros Monthly and two currency officers.
Coin master level
500,000 Euros per month and three currency managers.
Vice President of Currency
1,000,000 Euros Four currency officers.
Coin President level
2,500,000 Euros and eight currency managers.
Coin President level
5,000,000 at least 16 executives.
Coin Baron Level
10,000,000 Euros per month and 32 masters.
Coin Tycoon level
25,000,000 64 and four vice presidents of currency.
Last conclusions
All this has no real support since any bank does not validate the MCV points. Several sanctions have already been imposed to date, for this reason, so do not fall into their lies too.