Scams online are very common; there is always the possibility of falling into an unscrupulous company. When it comes to money, these are entirely possible, from any niche to the one that seems most reliable.
The lack of information has brought this phenomenon of online scams to grow more and more. Many experts say that the big culprits are governments and companies that do not offer sufficient compensation and benefits to their employees. So they are forced to look for other economic income alternatives.
For this reason, they often fall into bad investments, fraudulent businesses, or simply due to the ignorance or deception of another more cunning person. All options are possible, so it is better to be vigilant and look for information before making an online investment.
In this case, we will talk about a very popular topic, and which has gained strength in recent years. However, it continues having many falls due to the lack of information and the little understanding that exists about its operation and real market benefit.
Cryptocurrencies are the subject of today, Bitcoin or any digital currency is part of the new technological and economic era. We know that there are currently more than 36 million cryptocurrencies in the world; many companies seek to guide customers in the world of digital money.
What many ignore is that this opens the way to a very excessive and uncontrollable world of scams. These currencies, not having the backing of a bank or a government, cannot be a reason for claiming in case of fraud.
There are many ideal profitable platforms to take advantage of the world of cryptocurrencies. But others only seek to take advantage of the little information and knowledge on the subject to scam new investors. Such is the case of Mind Capital.
What is Mind Capital?
It is a platform designed to make cryptocurrencies profitable, also called an investment network. People know it with this name because many invest and manage to benefit markets in the financial sector.
Mind Capital has Blockchain technology that allows you to analyze in real-time the movements of cryptocurrencies, and thus identify what would be a profitable investment. You must estimate a minimum investment of $ 100 through Bitcoin, and like everything on the internet, your registration is quick and easy.
Of course, you must have the amount above in Bitcoin to enter the game and be able to register.
However, it is very difficult to avoid being exposed to criticism if you have a minimum of reputation on the internet. Mind Capital is synonymous with scams and is that when you type in the search engine, you find millions of results that make you doubt about effectiveness.
As points of attention for Mind Capital, we have:
They do not focus on offering large bonuses, but on "cutting edge" Blockchain technology to attract new clients.
Its profitability is between 0.5 and 1.5%. Nothing high
The earnings obtained vary depending on the level where the client is.
Your minimum investment amount is high compared to other companies
In the cryptocurrencies world, nothing is guaranteed; for this reason, people call companies like Mind Capital cryptocurrency scammers. They have allegations that they steal from investors across Europe.
Mind Capital and its beginnings
Gonzalo García Pelayo creates this company, an expert in betting and roulette games. This means that he is a person who is very good at numbers and is always looking for a new phantom investment opportunity.
It is very easy to join this world if you know the good reputation and results of its main creator. Know how it has influenced the world of business and cryptocurrencies worldwide.
Mind Capital has been audited countless times; this has made it lose value in the cryptocurrency market. The best way to avoid fraud from companies like this is to step aside and generate smart income. Look for investments with another type of more reliable support.
Remember that as well as Mind Capital, there are thousands of companies denounced but continue to operate in the market. Furthermore, the cryptocurrency business, while known, is not reliable in many ways, and here we see why.
These companies do not have their government or financial support to respond to any fraud or legal problem in which they are involved. The person who invests does not have an entity to turn to in case of any problem. Despite its many options and platforms, it remains a "shell business" with many information gaps to its credit.
Mind Capital Operations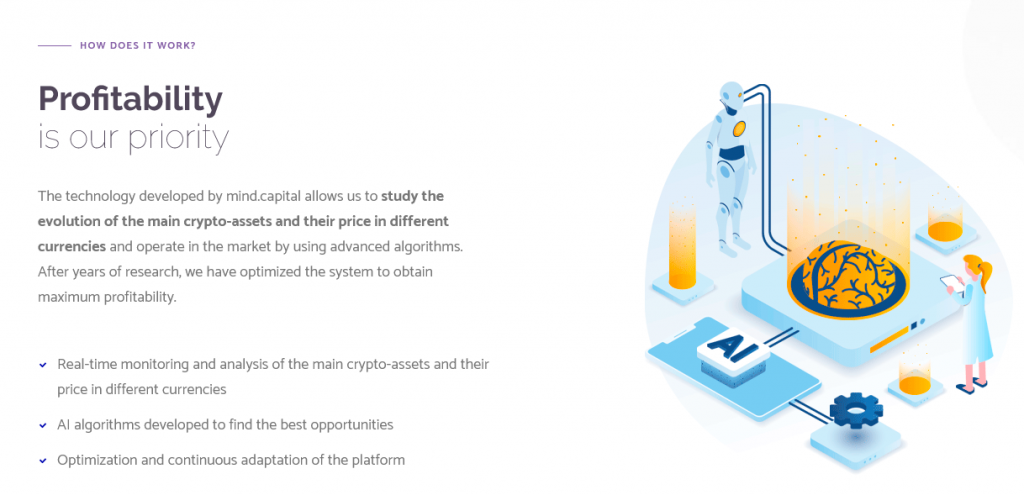 To invest in the cryptocurrency business, it is necessary to investigate well, as we have already said. Mind Capital has managed to increase its popularity among users by offering a study program on how to do the whole process and how to "Invest Smartly."
The system that this company manages is not facing the client, their needs, even so, they enter the business without being 100% sure. But as usual, they make it seem like a simple process where you will get significant profits with the minimum effort.
Being a popular trading platform, it is exposed to criticism. Therefore people can make their own opinion. What people find is not promising for the long-term maintenance of this platform.
Its operations have decreased considerably due to the number of negative reviews it has received from third parties. These companies scam people who have not obtained even a minimum profit that would allow them to recover some of the investment made.
Features
The Mind Capital features leave much to be desired. People constantly denounce, even by European authorities, which considerably dismisses its working methodologies.
The percentages presented to clients and investors associated with Mind Capital are absurdly low compared to the investment made from the start. Someone with a little common sense would realize that this is not a good deal.
Its profitability goes according to an analysis of 0.5 to 1%. An unpromising scenario.
The initial investment is $ 100 in Bitcoin, and the profits do not exceed the amount or even recover the investment.
The price of the currency they handle moves very slowly. It is not stable in the market or feasible for the business.
The study program is just a mattress to cushion and ensure the scam generating empathy with a new investor who does not know much about the subject.
Its founder has known how to use the success of his previous plays in casinos to make cryptocurrencies a "profitable" business. Only profitable for him, so we must be more careful when investing. In this way, we will not enter the world of constant fraud with Mind Capital.
We know that millions of current systems do not offer transparency or reliability, so we must investigate well. Also, we must focus on learning more about the world of digital currencies and how they move to make this a feasible business. We can do this by our means, without fraudulent bridges.